If you are in market for flat shoes that are feminine, appealing, and chic, then Tieks may be perfect shoe for you. These stylish shoes can be worn with a variety of outfits.
Give your heels and feet a rest, and slip on a pair of ballet shoes. Ballerinas and dancers have worn these shoes for years. Now fashionist everywhere has adopted the look for wear foot fashion suitable any day of the year. There is a common misconception that ballet flats only come in basic black. The fact of matter is that they come in variety of materials including satin, leather, velvet, and patent leather. They can be found at your nearest Wal-Mart or the chic boutique downtown. Spice up your style and accent your femininity by looking for and opting to purchase ballet shoes with flair. It is the best footwear and very comfortable.
There are different varieties are available:
Embellished:
Embellished simply means decoration. While considered classic and a fashion staple. Embellishment on your black ballet flats adds just the right about of pizazz to be considered trendy. Embellished black ballet flats can light up any outfit and can be consider eye candy for your feet. Embellishment can include rhinestones, bows, strips of fabric, and even buttons.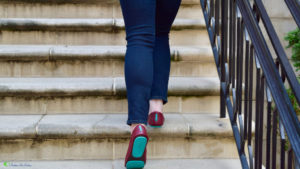 Patent Leather: Some may turn up their nose at idea of patent leather flats, because idea reminds them of first grade contrary. You owe it to your wardrobe to seriously consider patent leather ballet flats. Patent leather black ballet footwear will accent your outfit and when wearing patent leather black flats skip the flashy accessories and the frilly blouse. Instead, let your patent leather black ballet flats do the talking.
Athletic: Instead of wearing your running shoes to the grocery store, slip on an athletic pair of ballet footwear. You may even opt for ballet shoes en route to your spinning class. These flats are already comfortable, but certain athletic type brands offer ballet flats with extra support and comfort. When you put on your sweat suit, don't forget an athletic pair of ballet shoes.
Spectator: If your style is more chic and sophisticate, then spectator ballet footwear is the perfect shoe for you. Spectator flats have contrasting colors for the heel and the toe. The spectator ballet flat can easily complement a tunic, leggings, skinny jeans, or an a-line skirt. You can thank classic and chic actress Audrey Hepburn for making black ballet flats chic and easy to wear.
Have we convinced you? The answer should be a resounding yes. If you're puzzle about what to wear with your black ballet flats then you have to check new trends. Smile awhile and give your feet a break. Your black ballet shoes are sure to take you places. If you've made the decision to enroll in a ballet class you have made your first important decision and the other decision to make, and equally important, involves selecting a pair of ballet flats. It will serve your needs and wants.