Pearl Earrings are the most classical earring and comparative affordable one. Pearl or other gemstones are floating on your earring, while a screw back to securely hold the earring in place.
This can usefully prevent the loosing of earring while it contains expensive pearl or material. Affordable pearl stud earring is Akoya or freshwater pearl in 18k gold. While Tahitian, South Sea Pearl & Diamond stud earring are expensive. Stud earring is the most indispensably jewelry piece in your box. Threader pearl earrings provide a gorgeous and fashionable look for your collection. These earrings are fully adjustable length wise to provide a personal item for you to own. Pearls can dangle best with that chain below the ear and don't worry about the chain. It is thin but can hold the bead firmly. The chains are always make in 18k gold, 14k gold or solid silver.
Different types of earrings:
One larger gemstone, geometric shape or charm hangs from the earring base normally facing forward. Some drop earrings combine a charm and a gemstone. The basic design of the drop requires the earring to hang in a straight line from base to end. The most unique feature of this type is that it can wear by non-pierced people. With a terminator that screws up against the back of the ear to hold the earring in place. It could be a stud or dangle types. They become rare now for some reason that could not wear for several hours as un-comfort caused. The earring has multi branches that hang down from the earring base. At the end of branch are some gemstones, most are tear or drop shaped. Different types of earrings hanger are: such as Fish Hook pearl earring, French Hoop pearl earring, Lever back pearl earring.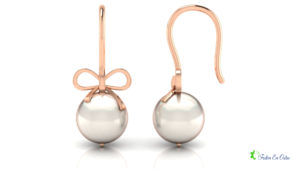 Tips on choosing earrings:
                                                    Style – Choose a proper earring styles that could best make your outstand, stud, hoop, hook.  There are too many choices. But women's jewelry box could not be filled with lacking of some earring types. Pearl Size: there are also too much pearl sizes that disturb your choice. For a stud earring, pearl sized in 12mm is enough, as bigger pearl sizes require big earlobe. It could make other beautiful scenery on your ears. But 6mm pearls could also exquisite and small. Material: Some pearl earrings are made of 18k gold, 14k gold, solid silver or other cheap materials. This is a totally personal preference. But if you are a little bit metallic allergic, choose k gold earrings; other gemstones like diamond, jade, crystal. It can also match perfectly with pearls. Pearl & diamond earrings are more luxurious and elegant, especially pearl & diamond stud earring.
It required smaller pearl sizes (7-9mm) as some spaces needed to mounted diamonds around. Length: Considerable lengths make pear earrings clean and neat, and can avoid the children and babies managing accidentally to tear it off from their or your ears. You must have to get pearl earrings for your wife to gift her.